Client:

Hilding Anders
Date:

15. January 2015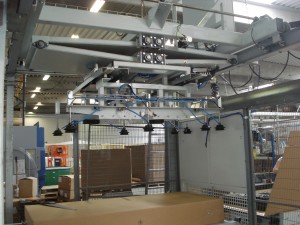 Crane with suction cups ready to collect the packed mattress for palletizing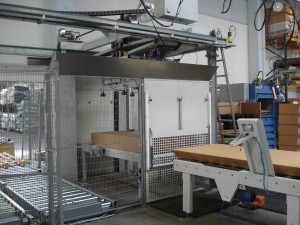 System while under construction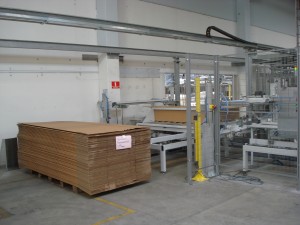 Boxes stacked on a pallet, in this case without module
Complete packing and palletizing line delivered to Hilding Anders. This system services their 2 existing production lines. The system includes pallet feed and the finished packed mattresses are sent down the line to the next station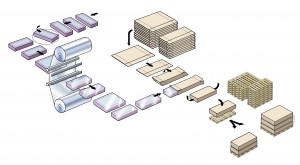 Produktions flow for Invector Pack & Pal
A complete packing and palletizing line delivered to another large Danish mattress manufacture


INVECTOR Pak and Pal Systems are modular based and can be configured into your existing production matched to your wishes and needs
Automatic packing and palletizing system
Product
Through time INVECTOR has specially designed, built and delivered many systems for Hilding Anders. These machines are being used in the manufacturing and packing of mattresses in the Bed Industry. INVECTORS Pack and Pal was originally built for Hilding Anders. The system packs and palletizes finished mattresses fully automatically.
Jobs list:
Feed boxes
Unfold the box
Push the mattress in the box
Glue the box
Collect, transport and stack the finished product on a pallet
Transport the finished stacked pallet to inventory
INVECTOR Pak and Pal is fully programmable and can handle different types and sizes of mattresses and box sizes
Mattress types include: foam, box spring, slats bed, and elevation
Mattress format includes:    Length 2000-2200mm
Width 700-2200mm
Height 100-350mm or 200-450mm (250mm span)
Weight 0-120kg
Refined Solutions
Hilding Anders requested a machine that could place cardboard automatically under the finished mattress in the packing stage to help the employees avoid heavy lifting. In the end INVECTOR designed built and delivered a fully Automatic Packing and Palletizing System. INVECTORS Pak and Pal system has made it possible for employees to avoid constant heavy lifting and awkward, often difficult working positions.
The System can handle up to 80 mattresses per minute. This means that every 46 seconds a mattress can be packed and palletized. Not to mention placed on the pallet with accuracy +/- 2mm resulting in very strong stack capable of higher quantities.
Functions list for Hilding Anders system:
Mattress push: the pushing machine does just that. It pushes a finished mattress into the open box waiting at the folding station. The mattress length determines not only the box in waiting but also the length of the push.
Fold and glue station: the folding station actually unfolds the flat box so that it is ready to accept the next mattress on the line. When the mattress is in the box the folding machine positions the end flaps for automatic gluing and finishes by pressing firmly in place. The finished packed mattress is corrected to position "0" and collected by the crane on its way to palletizing.
Crane: the crane is an important integrated part of the machine Pack and Pal. It is continually handling boxes, packed mattresses and pallets. The crane has multiple functions and to ensure its stability is constructed of heavy duty profile material.
The Pack and Pal system and its programming are capable of mixed palletized runs. If a blend of different size and type mattresses is required flexible programming makes it possible. Palletizing in this fashion takes more time but is perfect for night production or companies operating Just in Time protocol. All systems are designed considering customer wishes and their existing machines.
Module Based Solutions
INVECTOR Pack & Pal is modularly built. This gives the system flexibility and the different modules can be implemented in any production after customer's wishes and needs. Our customers decide how much or how little of their existing system is used. For example if you're happy with your plastic wrapper we will put it in the system.
A system built module by module gives our customers the freedom to also choose the level of atomization. Chosen stations can be left manual if required.
Flexibility proves valuable in the build as well as the packing process. Switching between different size mattresses is done automatically without a loss in production time. This means, if you had three different size beds coming from three different lines you could send them through one Pak and Pal system by simply giving the crane access to the 3 corresponding boxes on the crane line.3 different stacking pallets would be required if this was the case.
Shipping pallets are directly on the floor. This allows manufacturers with limited space to use a tow truck or forklift to remove finished pallets or place new supplies of cardboard under the crane.
The packed mattresses in this system are stacked flat. If you require we have a machine that takes the appropriate number of beds and stands them up on end, then places them on a pallet for Vertical Shipping.
Movie of Invector Pack & Pal. A new Movie will soon be available at the webpage
This is a text block. Click the edit button to change this text..
Technical data:
| | |
| --- | --- |
| Machines are conveyors for | beds and mattresses |
| Length of mattress: | 2000/2200 mm. |
| Width of mattress: | 700/800/900/1050/1200/1400/2200 mm.   |
| Height of mattress: | 100/120/260/340/380/450 mm. |
| Lenght of the box: | 2130 mm. |
| Width of the box: | 820/920/1070/1220/1420 mm. |
| Height of the box: | 150/260/345/385/435 mm. |
| Width of the box: | 920 mm. |
| Height of the box: | 260 mm. |
| Length of the box: | 2030/2130 mm. |
| Transport height | 830 mm. |
| Total weight max: | 120 kg. |
| Power supply: | 3×400 V 50/60 Hz. |
| Capacity : | 80 mattresses per hour/46 sec pr mattress. |