Client:

Thema Vinduer (Scandia Windows)
Date:

15. January 2015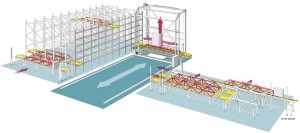 3D illustration – Storage hotel to the left, transport car in the middle, operator table to the right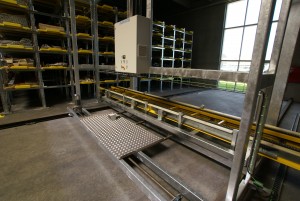 Transport cars collecting profile from the Storage Hotel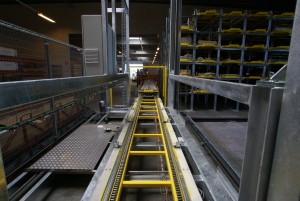 Empty transport car waiting to search the next profile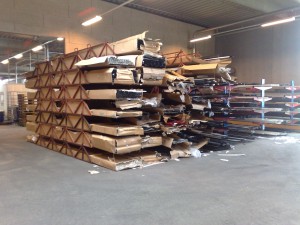 Before picture.
At Themas, their earlier storage of profile required the operator to dismantle the pack to gain access to the required profile to continue production
After picture.
Invectors Storage Hotel in action, resulting in systematic and logical storage.
Storage hotel for long profiles
Product
Fully automatic sorting and handling:
Cages for aluminium or similar profiles
Maximum weight: 1500 kg.
Maximum length profile 6000 mm.
The Storage Hotel can sort and place large numbers of inventory systematically with an easily manageable overview. When the operator needs a profile they simply call it forward at the computer screen. The system is designed to search and pull the basket of desired product and via the transport cars bring it to the delivery station/pick-up station.
If a basket is empty the operator simply presses "Basket empty" the transport car then collects the empty basket and places it ready for the lift truck to take it away to receiving.
When the new product arrives it is placed accurately in the basket. By activating the receiving product button, operators are allowed to code the type, colour and part number in. This information is logged in and the system places the newly filled basket in a vacant location recording all information and logging as in storage.
When the operator is cutting to order choose to log the product number and send either to shipping or back to the Storage hotel. The transport cars are fully automatic and wireless controlled "Siemens Industrial Ithen-net. Transport cars are enclosed in safety shield and at any time can be manually controlled by an override function.
All positioning is continually controlled and adjusted by laser measuring and calibration equipment.
Video of fullly automatic storage hotel